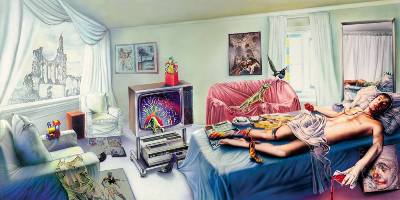 Fugazi
12.03.1984
12 marca 1984 roku ukazał się album Fugazi. To pierwszy album, na którym zagrał Ian Mosley. Nagrywany podczas długiej i bardzo kosztownej sesji nagraniowej w studiu Manor w Shipton nad rzeką Cherweel niedaleko Oxfordu. Jak mówili sami muzycy; gdyby mieli jeszcze więcej czasu, album byłby znacznie bardziej dopracowany i doskonały. Niestety niekończące się trasy koncertowe, czy problemy z perkusistami również tego nie ułatwiały. Perkusistami zostawali kolejno; Andy Ward (ex Camel), który wystąpił w teledysku Garden Party, ale został usunięty z powodu nadużyć z alkoholem. John Martyr, który współtworzył nowe wersje Market Square Heroes oraz Three Boats Down from the Candy. Następnie Jonathan Mover, współtwórca Punch and Judy i wreszcie Ian Mosley, dla którego album Fugazi jest debiutem i oczywiście pozostaje w Marillion do dnia dzisiejszego. Zresztą Ian zawsze powtarzał, że w końcu trafił do prawdziwego zespołu. Wcześniej współpracował m.in z Steve'm Hackett'em, czy Barbarą Streisand jako muzyk sesyjny. Producentem płyty był ponownie Nick Tauber.
"Drugi album Marillion udowodnił wszystkim, że zespół ma przyszłość i stworzył dzieło przewyższające swój bardzo udany debiut a okrzyknięty był nawet The Dark Side Of The Moon lat osiemdziesiątych. Zespół wypracował swój niepodrabialny, natychmiast rozpoznawalny styl. Singlowe Assassing oraz Punch And Judy przynoszą nam muzykę niezwykle przebojową, zawierającą w sobie dużą dawkę dramatyzmu, zresztą tak jest do ostatnich dźwięków, zamykającej album kompozycji tytułowej. Utwór Assassing powstał bardzo wcześnie i jej ostateczny kształt wspaniale przedstawia Iana Mosleya Fanom. Co ciekawe tekst utworu częściowo nawiązuje do sytuacji usunięcia Micka Pointera z Marillion. Absolutnie wyjątkowa ballada Jigsaw z wspaniałą solówką Rothery'ego. Tekst idealnie współgrający z muzyka w Emerlad Lies. Pastelowe pejzaże malowane przez Marka Kellyego na organach w She Chameleon. Zadziorne Incubus opowiadające historię reżysera filmów porno, który zakochał się w swojej aktorce. Wreszcie absolutnie monumentalne i epickie tytułowe Fugazi, zamykające album, są ozdobą tego albumu, dzięki któremu zespół ugruntował swoją pozycje a sam wokalista Fish stawiany był od tej pory na równi ze swoimi poprzednikami..."
Album osiągnął spory sukces w Europie, choć nie przetarł jeszcze szlaków za oceanem. Osiągnął 5 miejsce brytyjskiej listy przebojów, na której utrzymywał się 20 tygodni. Singiel Assassing był 22 a Punch and Judy było 29. Album promował tylko jeden teledysk, nakręcony do drugiego singla Assassing, który ponownie wyreżyserował Simon Milne. Na stronach B singlii, znajdziemy kompozycje Cinderella Search, która nie trafiła na album gdyż była zbyt romantyczna. Okładkę płyty zaprojektował już stały grafik Mark Wilkonson, która przedstawia jester'a tym razem odzwierciedlającego samego Fisha. Wśród płyt widocznych na obrazku, widzimy m.in singiel Punch And Judy oraz album The Wall zespołu Pink Floyd. Album Fugazi to zespół w drodze. Nagrywany między niekończącymi się występami i szybko rosnącą popularnością zespołu. Do dziś brzmi niezwykle świeżo i mocno, pozostając jednym z najważniejszych albumów w dyskografii Marillion.
Voice: Fish
Guitars: Steve Rothery
Keyboards: Mark Kelly
Bass: Pete Trevawas
Drums & Percussion: Ian Mosley
Producent: Nick Tauber
Okładka: Mark Wilkinson
Wytwórnia: EMI
Tracklista:
Assassing
Punch and Judy
Jigsaw
Emerald Lies
She Chameleon
Incubus
Fugazi
Vinyl Edition:
- 1984 - UK - label: red promo, white promo, test pressing, yellow, yellow - EMI
- 1984 - UK - picture disc - EMI
- 1988 - UK - re-relased - EMI/Fame
- 1984 - EEC - label: white test, test pressing, yellow, yellow promo - EMI
- 1984 - CZ - label: black - vinyl: black, black promo, red, pink, blue marbled, clear multicoloured - EMI
- 1984 - GR - label: yellow - EMI
- 1984 - ITA - label: yellow - EMI
- 1984 - POR - label: yellow - EMI
- 1984 - AUS - label: yellow, yellow promo stamp - EMI
- 1984 - BRA - label: yellow - EMI
- 1985 - BRA - label: yellow - EMI
- 1984 - CAN - label: black - Capitol
- 1984 - ISR - label: grey - Portrait
- 1984 - JAP - label: white promo OBI, yellow OBI - EMI
- 1984 - NZ - label: yellow - EMI
- 1984 - RSA - label: yellow - EMI
- 1984 - TAW - label: yellow - EMI
- 1984 - USA - label: black promo stamp, black - Capitol
- 1984 - VEN - label: yellow - EMI
- 1984 - MEX - label: yellow - EMI
- 1984 - ARG - label: ?? - EMI
- 2012 - EEC - label: picture - EMI
Side 1
Assassing
Punch and Judy
Jigsaw
Emerald Lies
Side 2
She Chameleon
Incubus
Fugazi
12" LP Argentina edition:
1984 - 12" LP Argentina eidition - EMI - 8213
Side A:
Asesinato / Asesinado
Titeres
Rompeca bezas
Mentiras color esmeralda
Side B:
Ella camaleon
Incubo
Fugazi
CD Edition
- 1985 - UK - jewel case - EMI
- 1987 - UK - re-relased - jewel case - EMI/Fame
- 1988 - BRA - jewel case - EMI
- ???? - EEC - jewel case - EMI
- ???? - EEC - re-relased - jewel case - EMI/Fame
- ???? - RUS - jewel case - EMI
- ???? - UKR - jewel case - BCVLX
- ???? - USA - jewel case - Capitol
- ???? - USA - long box - Capitol
- ???? - JAP - jewel case - EMI
- ???? - JAP - re-released - jewel case with OBI - EMI/Toshiba
- 2005 - JAP - mini vinyl replica with OBI - EMI/Toshiba
- 1998 - EEC - remastered - 2CD jewel case - EMI
- 1998 - UK - remastered - 2CD jewel case - EMI
- 2001 - USA - remastered - 2CD jewel case - Sanctuary
- ???? - CAN - remastered - 2CD jewel case - Sanctuary
- ???? - ECC - remastered - 2CD jewel case - Parlophone
Assassing
Punch and Judy
Jigsaw
Emerald Lies
She Chameleon
Incubus
Fugazi
Reamster 1998 disc two:
Cinderella Search (12" version) (5:31)
Assassing (Alternate Mix) (7:40)
Three Boats Down From The Candy (Alternative Version) (4:00)
Punch & Judy (Demo) (3:50)
She Chameleon (Demo) (6:34)
Emerald Lies (Demo) (5:32)
Incubus (Demo) (8:09)
MC Version:
- 1984 - UK - EMI
- 1984 - USA - Capitol
- 1984 - ITA - EMI
Album Fugazi ukazał się również w:
- 1995 - 3CD - Orginals, Mini Vinyl Replica Box CD (two covers) - EMI - CD OMB 015
- 2013 - AUT -
5 Albums box
- 5099997212324 9721232 - EMI
BOOTLEGS:
Live Bootleg:
- 1984 The Greatest Puppet Show On Earth - BMX PD 1vinyl LP '84
- 1984 Live Chippenham - FC001 1vinyl LP '84
- 1984 BBC Transcription Services, in Concert 331 - (CN 4387 /s) 1vinyl LP '84 (no cover)
- 1984 The Juggler And The Ventriloquist - 1vinyl LP '84
- 1984 Jig-saw - KERI Records (MJ 784) 1vinyl LP '84
- 1984 Pink Pop (live 1984) - --- (TAKRL 2156) 1vinyl LP '84 (no cover)
- 1984 From: Pink Pop Festival, Geleen, Holland, 11-06-84 - --- (M 11684) 1vinyl LP '84
- ???? Fish Out Of Water - Rarities Part 3 - Northlake Records 1vinyl LP '84/'86
- ???? Passport - Picture Records 2Vinyl LP '84
- 1984 Eyes Of Cinderella - Vinyl Virus 1vinyl LP '84
- 1984 Other Fish To Fly - 1vinyl LP '84
- 1984 Fish For President - GENF 1vinyl LP '84
- 1984 Live At Hammersmith Odeon: Misplaced Childhood Part Three - Fat Man 1vinyl LP '84
- 1984 Lay The Blame On Genesis - Genesis Music Ltd. (MAR 1) 1vinyl LP '84
- 1984 Lavender Blue - The Magician Wood Music Co. Inc. 2vinyl LP '84-'86
- 1985 BBC Transcription Services, in Concert 353, Featuring Marillion - BBC Transcription Services 1vinyl LP '84
- 1992 Garden Party in UK 1984 - Sirius Records 2CD limited edition 1000 copies '84
- 1992 Cinderella Search - Oh Boy 1CD '84
- 1993 Unforgotten Truth - Classical Shots On CD 1CD '84/'86
- 1993 Childhood Rehearsals - Paper Corn Music 1CD '84
- 1994 Pinkpop Geleen June 11th 1984 - Take It Or Leave It Music 1CD '84